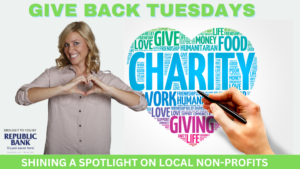 Every Tuesday, Mandy will feature a local nonprofit and shine the spotlight on the people in our community doing amazing things to help others.  Brought to you by Republic Bank, It's Just Easier Here!
If your organization would like to be featured on Give Back Tuesday please fill out the form below and listen each Tuesday to see who Mandy will feature on her show next!!
Give Back Tuesday 2023
If your non-profit would like to be a part of Give Back Tuesday, please fill out the form below. We'll be in touch soon. Thanks!
---