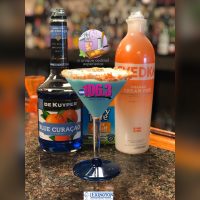 The Hillbilly bartender has your cure for the "Back To School Blues" with this delicious mind blowing blue/orange creamsicle! Enjoy responsibly and stay tuned next week for another Dink of the Week thanks to our friends at Cocktail Creations and The Lexington Bartending School.
It's DRINK OF THE WEEK time!! Josh aka the hillbilly bartender from Cocktail Creations and Lexington Bartending School is here with Radio Jimmy to help get rid of your "School Day Blues" with this delicious drink that will quench your thirst and blow your taste bud's minds this weekend! ???????????? #YOUR1063 #TheJimmyShow #DrinkOfTheWeek #ShareLex

Posted by Your 106.3 on Friday, August 17, 2018
---
Happy National Watermelon Day (August 3rd) Here's a way to beat the heat this weekend… with a Watermelon Margarita!
It's time for Radio Jimmys #DrinkOfTheWeek with Cocktail Creations and the Lexington Bartending School! Today is #NationalWatermelonDay so Josh (The Hillbilly Bartender) came up with a delicious Watermelon Daiquiri ???? CHEERS!! #Yummy #DeliciousDaiquiri We will be doing a drink of the week every Friday to help you kick off the weekend! ???????????? #YOUR1063

Posted by Your 106.3 on Friday, August 3, 2018
---